Complete the Holiday Spirit with Christmas Trees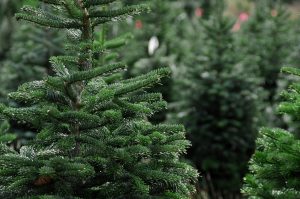 The holiday season is a wonderful time to bring an air of cheer and merriment to your home. For this occasion, Christmas trees from Hemlocks Landscape Management is proud to be a supplier of quality trees for families and property management firms in Jasper, Georgia. Whether as the centerpiece for an outdoor diorama or the living room, our Fraser fir Christmas trees will fill your property with wonder.
The North Carolina Fraser Fir
Establish a greeting card-worthy scene with Fraser Fir Christmas trees. These trees are known for their full shape, distinct fragrance, quality needle shape and retention, and ability to remain fresh for the entire holiday season.
Fraser fir is a popular species of tree. Our trees are grown in the mountains and harvested with care to preserve their natural beauty. When a shipment arrives at our lot, they receive a fresh cut and are displayed in water reservoirs to ensure freshness. As a result, they are lush and ready to take home. Bring back the smell of the holidays with a Fraser Fir Christmas tree.
The Hemlocks Difference
At Hemlocks Landscape Management, we pride ourselves on the quality of our work, the satisfaction of our clients and friendly service. Our Christmas tree selection is no exception. Our trees are shipped directly from the farm to our lot regularly from Thanksgiving and through Christmas. Thanks to our skill in landscaping and tree care, we ensure each of our trees in our selection is fresh and ready to take home.
Our staff will be happy to assist you with selection, making a fresh cut, bailing, loading and securing your tree. While you are visiting with us, please explore the unique variety of hand-made decorations including wreaths, garland, wooden reindeer & barn wood décor that we have created. Tree stands are available as well!
Snow Flocking Now Available!
Add that extra touch to your tree with snow flocking. We have bright white snow flocking in stock and ready to go. If you prefer colored flocking, please contact us ahead of time to ensure that your desired color will be available upon your arrival.
Know the Sales Schedule to Ensure Your Frame-worthy Scenery
While the holiday season is a perfect time to catch up with friends and family, we also recognize that it can be an equally hectic period. We firmly believe in giving each of our clients enough information to plan ahead. For your convenience, Christmas trees will be available starting the Friday after Thanksgiving. Please note that trees taller than 12 feet must be preordered by October 10th. Our tree lot is open according to the schedule below:
*Friday After Thanksgiving 9:00 a.m. - 7:00 p.m.
Monday - Friday 10:00 a.m. - 6:00 p.m.
Saturday, 9:00 a.m. - 7:00 p.m.
Sunday, 10:00 a.m. - 6:00 p.m.
Contact us today for more information on our Christmas trees. We proudly serve residents and property managers throughout North Georgia.